01.25.2017
Last night at Lillstreet Art Center, we had a great little workshop by one of the Artist-In-Residence Artists before my class. Nolan Baumgartner demo'd three different large platters… but more importantly, three different techniques of centering & throwing them. Since the demo was right before my class, I encouraged my students to come an hour early. Even though my students are mostly Advanced Beginners, it's always good to watch someone throwing pottery. Even if their skill sets aren't quite ready to tackle this amount of clay!
Platter #1 – Traditional Centering
Nolan started with a large ball of porcelain… about 20 pounds. He muscled & finessed his way through centering the clay in the traditional way. Locking in his elbows and pressing everything to the center. He then started throwing a large cylinder with a slight angle inwards before the pull of centrifugal force sets in. You could just see my students soaking up every little bit… intrigue, concern and understanding.
But when Nolan pulled out the blow torch…. WATCH OUT!!!!
My students were mesmerized... and I had to nip it in the bud. I don't even allow my Beginning students to use fans or blow dryers. So when they saw Nolan using an open flame to help stiffen his clay quickly, I knew I was in trouble!!! But I kept "glaring" at my students with my best "don't even think about it" look!
After stiffening up his clay a bit, Nolan went back to doing some more shaping of his platter… flaring out the flange wider & lower. And look at my students Taylore, Patty and Catherine right there closely watching his every move!
Some finishing touches and Platter #1 was ready to be set aside.
Platter #2 : Centering Layered Balls of Clay
For his second platter, Nolan started with centering a 5-pound ball of clay. He then carefully set another 5-pound ball of clay on top of it… and then slapped and centered it downwards.
After smoothing & centering the second five pounds onto the bottom five pounds…
Nolan added another 5-pounds on top making it a total of 15 pounds of clay. Again, centering the top ball of clay down onto the centered bottom two-thirds. Once he had all three balls of clay centered & incorporated, Nolan went back to throwing the second platter similar to the first one.
And then again… THE BLOW TORCH!!!
Really?… you're killin' me! I know I'm going to need to "re-direct" my beginning students a bit when we get back to my classroom! But for Nolan's large porcelain platters, I get it. Especially for a workshop demo like this. If he pushed it too far too fast, the porcelain platter would just flop down.
A little more shaping with ribs, and a little more blow torching, and Platter #2 was ready to set aside.
Platter #3 : Pounded, Paddled, Beat-up and Fluted Platter
For this one, Nolan started with another large ball of wedged porcelain. He set it on the wheel and slapped it around a bit until it was close to centered. But his third technique was to make this platter WITHOUT centering it the traditional way. So he started slapping it down while the wheel was rotating slowly with open palms.
Once it was "kinda" centered, he then pulled out a square mallet… and started pounding!!!
The wooden mallet is covered with a white gym sock. Again, pounding the clay evenly as the wheel is rotating slowly. I think the trick is to keep the spacing even, as well as the strength & power of each pounding of the mallet.
Pounding the sides, then the top… then the sides…. and the top again…
Getting it more & more centered, compressed and flattened out.
When it gets low enough, flat enough, and centered enough… Nolan switched to pounding it with a closed fist. Again, rhythmic pounding as the wheel is rotating slowly.
At some point, the clay is "centered" and it was time to throw the rest of the platter the "normal" way. Since this was the third and final platter, Nolan decided to decorate this one with his special fluted technique. He did a split rim, and then curled up even spaced areas using an MKM Decorating Disk.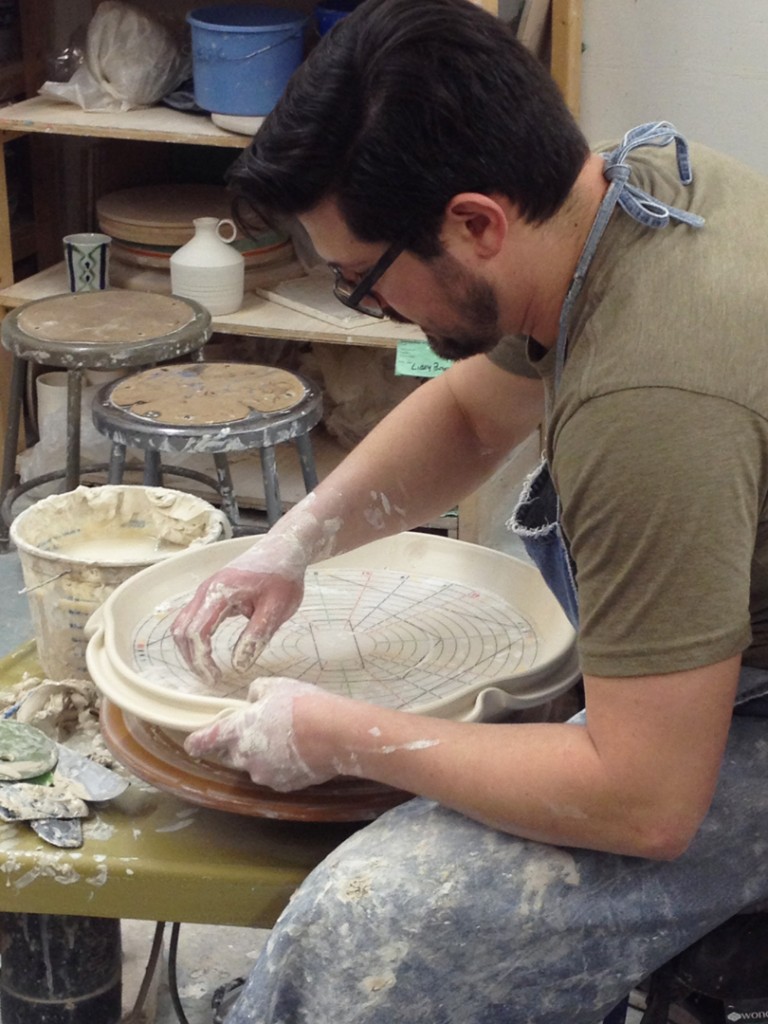 A quick pinch and a pull upwards…
And since the clay was still a bit squishy & slumpy, Nolan likes to use some clay "logs" to hold up the fluted points. A quick hand-squished coil to put in… kinda like flying buttresses.
Once supported, Nolan then curves the spaces between the pinches downward to give it some sexy curves.
Huge thanks to Nolan for sharing his tricks & techniques. My students loved the demo, as did all of the other students who came to his workshop. He definitely gave everyone a lot of great ideas… some too good for my Beginners.
Did I mention the blow torch?!!!
Save