07.31.2009
So this week we offered a new & completely different option for the kids.
Many of them have taken several clay classes… or metalsmithing classes…
but why not put them together?! Why not combine the two?!

Pam Robinson (Lillstreet Metals Dept. Head) and I worked together
to develop a camp for the kids to put both materials together in one project.
Fire. Forge. Feast. – fire the clay, forge the metal and then feast on the results!
Yep, we had the kids make a complete dinnerware set this week.
So we started the week with two days of clay – designing & making slab plates,
platters & bowls… as well as clay handles for what would become their cutlery!
So Monday & Tuesday the kids designed & made their dishes, as well as painting
them with colorful underglazes!
Then on Wednesday & Thursday, we moved over to the Metals Dept. to start
cutting their metal components…. knives, forks & spoons. It was a lot of sawing,
filing, sanding, texturing… and unfortunately, broken saw blades!
Friday was a day to finish up their pieces, finally combining clay & metal…
and enjoying a potluck meal on their finished projects!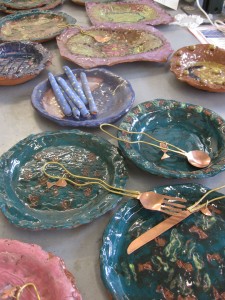 And my new collection of knives… that I made all by myself!!!