08.31.2019
Much of getting ready for race day is organizing all of your gear. Deciding what you're going to need & what you're going to want. IRONMAN does a great job of organizing & planning the event. They need to keep everything organized to keep the race running smoothly – especially with all of the gear and special needs of the two thousand athletes!
When you check-in, they give you a set of color-coded bags. Each bag will get packed ahead of time with all of the gear you're going to need for each stage of the race. You start the day with your Swim gear in hand. All of the clothing you'll need for the Bike portion is stored in the BLUE bag. Everything for the Run is in the RED bag. The ORANGE bag is your "special needs" bag that will be waiting for you at the halfway point of the bike ride. And the BLACK bag is the "special needs" bag that is waiting for you at the halfway point of the marathon. And just as an added twist… you'll get back all of the gear in the red & blue bags… but anything left over in the orange or black bags will not be returned. So you want to pack enough food & extras so you have some options… but not too much that you're throwing away good things you'll miss after the race!
Once we had our color-coded bags packed, we took our bikes and gear bags to the Transition Area. These are placed there the day before and will be waiting there for you on race day. We also stayed there to do the Athlete Briefing Meeting where they cover course specifics, rules & regulations and a lot more!
Here's my trusty steed… racked in the center grassy area of the Olympic Speed Skating Rink!!! We were there pretty early…. so it was easy to find my rack & parking space as they are all pre-numbered. Keep in mind, these entire field will eventually be completely PACKED with BIKES!!!
And here's Chris' teeny-tiny racing Tri bike. So cute, right?!
After racking your bike, you then drop off your bags at the bag racks off to the side of the bike area. They will both hang on racks right next to the huge changing tents.
And again, we were pretty early… so here's the bag racks as they start to get filled up. Keep in mind, these racks will be PACKED with bags!!! And when you come running in after the swim… or after the bike… you'll need to navigate your way through these bags & racks to find your pre-numbered bags!!!
We had brought all four of our gear bags with us… only to find out that the Special Needs bags don't get placed until Race Morning… oh well, back to the room!
Once we had taken care of our bikes, bags & athlete briefing… we figured we were still at IRONMAN Village… so we decided to "try out" the compression legs again! Why not, right?!!! We were there… they were still giving free demos… and they feel AMAZING!!!
And then there were also cold water bath legs! Kinda like sitting in a cold ice bath after an intense workout. But totally dry?! It's an odd feeling to feel the cold water coursing through the legs "freezing" your legs to relieve the muscle aches, pains & tensions. Not a big fan… I preferred the compression pants!
And if compression pant-legs are AMAZING… why not try another version!
They were there… Rapid Reboot… and we wouldn't want them to feel left-out, right?!
Of the three recovery pants… I think I preferred the Rapid Reboot brand!!!
After the Expo, we went for a little drive… to buy a few last-minute things and some lunch. Chris was sporting her new copper bracelet from her training friend Rose! Inside the cuff it is inscribed.. "YOU FUCKING GOT THIS!"… which is SO Rose!!!
We stopped at a nice local deli for lunch…
and loved seeing them all prepared for race weekend in the bakery area!
We behaved ourselves… as we have been eating FAR TOO MUCH over the past couple days. And we had "promised" ourselves that we would stay focused and eat much better today. The day before the big race. Eyes on the prize…. and not the decorated cookies & fruit tarts!
Also loved the cleverness of this license plate we found in the parking lot of the deli.
We finally made it to an early dinner… and I was looking for some good protein. My steak was amazing! And Chris went for a nice burger and homemade chips. It was early as we wanted to digest the food and get to bed early… as the alarm was going to go off EARLY tomorrow for Race Morning!!!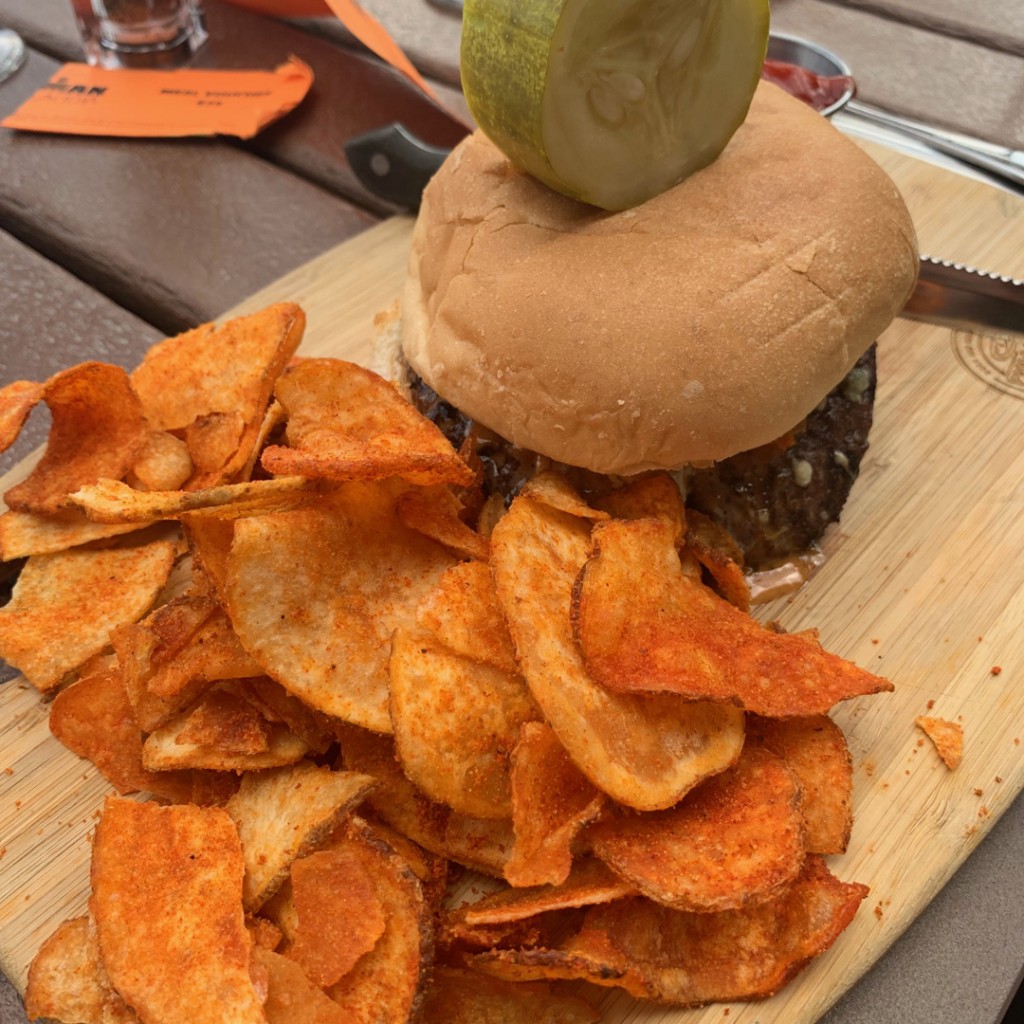 After dinner, we still had an hour or so to hang out… as it was still a bit too early to go to bed yet. So we walked back down to IRONMAN Village and the transition area… both of which are right next to the Olympic Training Center.
And by now, the racks for the gear bags were starting to fill up. Gotta try to remember where your bags are… keeping in mind that you will have just finished one leg of the race, running in along with a lot of other athletes… and you're all looking for your bags. It gets a bit confusing & congested.
And the bike racks were filling in nicely too. I would LOVE to know how much "money" is sitting her in the Transition Area. As a LOT of these bikes are VERY expensive… and very impressive!!!
When we got back to the room…. a bit nervous knowing that when we wake up next it will be RACE DAY!!! And doesn't everyone know that a good piece of apple pie will calm your nerves?!!!
And then it was time for bed… so we settled in, set a couple alarms for VERY early!!!
Going to be very early because tomorrow was going to be a VERY long & arduous day!
Save
Save