08.31.2019
We woke up in Lake Placid and knew we had to get started. A lot to do today.
It has felt just like a fun vacation so far… but now all of a sudden reality was setting in.
And then it got REAL!!!
Strapped on our official IRONMAN race wristbands… no turning back now…
After checking-in at Registration… we got our wristbands, bags, tags and all of that other important stuff. Then we went over to IRONMAN Village… the Expo area for all of the athletes and the vendors trying to sell more stuff. Always fun to see all of the goodies that we "want" but really don't "need"… and a few fun photo-ops along the way! Here's me & Chris at the official step & repeat photo-op!!!
Lots of people milling about in IRONMAN Village… enjoying the beautiful weather again!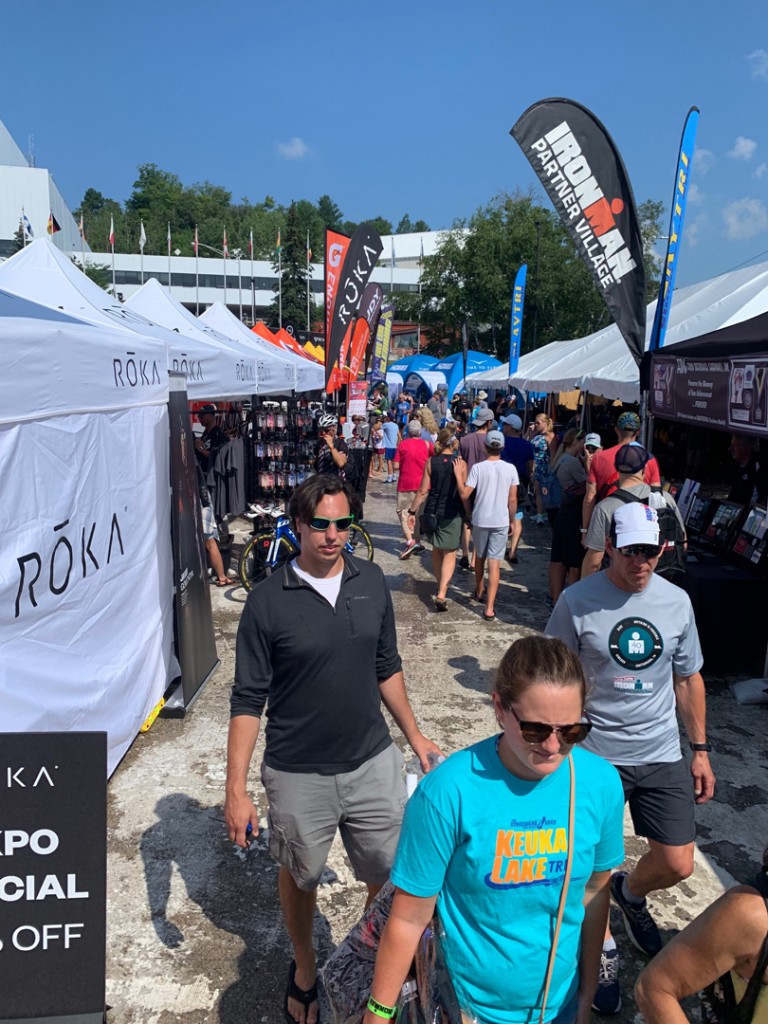 And when in Rome… one of our favorite vendors sells these amazing air inflating, compression recovery pants. Even better, they let you try them for free! Sure, we haven't done anything yet to have "earned" this… but it was FREE!!! So of course we did it!!!
As the legs inflate and gain air pressure, you can feel the muscles in your legs pulsating and the blood flowing & being pushed back up. Sometimes it gets a little "uncomfortable"… just like a good massage! Yes, please!!!
But then when you take the legs off, you can see where all of the seams & air pockets were pressing against your legs. A few indentations as souvenirs… as now my legs felt AMAZING!!!
And look…
pretty sure this will be placed in the right spot to become the actual Finish Line later!!!
Here's the area of grass that will be filled with thousands of bikes very soon. This is the Transition Area where we will come back between each section of the triathlon. And since we're in Lake Placid… home to two Winter Olympics… this grassy area is actually in interior of the ice speed skating rink!!!
And while you're playing in Lake Placid, it only seemed right that we both got to "light" the Olympic Flame!!! In fact, this is the official cauldron from the 1932 Winter Olympics!!!
While we were there being silly and taking photos, Chris set her purse down on the steps. We got all carried away and continued off into the Expo. It wasn't until we were headed back to our room that she realized she didn't have her bag. So we rushed back to the Expo and found it right there sitting on the steps… under the watchful eye of the nice lady that was helping with the photo-op in the expo tent across the walkway. So nice of her to keep an eye on it for us!
Soon enough it was time for more food!!! Gotta gear-up and carbo-load for the big race, right?! Or is that just a wonderful excuse to eat more?!!! So we opted for yummy pizzas… both of them on a cauliflower crust. My first time trying it… and not all that much different, really.
We walked through town doing a little window shopping. And found more than souvenirs… maybe it was time to eat again?! So we did… Chris got this HUGE ice cream cone that she polished off in no time… and I got a slice of cheesecake dipped in chocolate and frozen on a stick. Huge and YUMMY!!!
And we figured since we were supposed to be "relaxing"…
why not take some time off for an afternoon matinee?
And such a cute little, family-owned movie theater!!!
When we got back to our AirB&B room, we ran into some of our new neighbors. A cute couple Jackie & Joe from Long Island… he was racing, she was cheering. Another couple where she was from Brazil and a well-seasoned IRONMAN racer and what we now believe to be her Sugar-Daddy! We also ran into a cute family with two kids… but the strange part was that the Mom of that family was the same nice lady we met earlier that had been keeping an eye on Chris' lost purse at the Expo!!! Small world, huh?!!!
After the movie, Chris and I hopped back in the car to drive the IRONMAN bike route. We figured it would be a great chance to familiarize ourselves with the course a bit. We knew it was going to be hilly, but we didn't really know how bad. We had also heard "rumor" of a very steep downhill at the beginning, and then an 11-mile uphill at the end getting us back into Lake Placid!!! YIKES!!! So much easier in a car… and it gave me a chance to take some pictures!!! The scenery was SO AMAZING… that if I didn't get pictures now, I knew I would never be able to finish the ride in time if I could stop for photos (which you can't, but you get the point.)
So here we go… pedaling up the first big hill… err, well driving for now, but pedaling later.
Did I mention recently that the weather here in Lake Placid has been SPECTACULAR?!
Well it was…. and the scenery was too!!! Like this…
And here we go… this is the road that will be part of that BIG downhill…
right along side of the river and cliffs!
I mean, c'mon… could this get any prettier???
Truth be told, we stopped the car so I could take pictures of the waterfalls that I had seen on the other side of the road. I hopped out and ran across the road to take pictures. Chris was back by the car yelling at me… and yelling for me to come back… but why?…
Turns out THIS amazing waterfall was right next to the parking lot…
and I had completely run right past it to take pictures across the street. HA!!!
SO BEAUTIFUL!!!
And to think… if we didn't come out tonight to drive the bike course… we would have only seen this scenic beauty while looking over our handlebars and pushing the pedals. It's gonna be a race!!! No time for sightseeing. No time for my camera! So glad we got to see some of the beauty of the Adirondack Mountains ahead of time… and with my camera!!!
So good to see the route ahead of time. To have some idea of where the ride would take us… and where the hills were going to be. The route is the same loop twice! To see the steep downhill… and to see how bad that 11-mile uphill climb was going to be towards the end… TWICE!!!
After our drive, Chris and I went over to see some of her training friends at the house they were renting. Chris trains with "ET : Experience Triathlon"… and her coach Chilly was going to be racing Lake Placid with us! So we stopped by to see her and a few other teammates. And were so pleasantly surprised to see that some of Chris's training team mates had sent us some treats!!! And you know how I LOVE treats… and apparently THEY do to! I mean, they've all "experienced" my form of training… riding hard & ending with pie!!!
Some of the largest and best cookies ever!!!
And oh, but wait there's more… not just cookies… but PIE too!!!
We have some of the BEST FRIENDS EVER!!!… definitely the "sweetest"!!!
And then it was time to sleep… another day closer to the big day!!!
Just one more day of "rest" before we tackle our next IRONMAN race!!!
Save
Save
Save
Save