08.31.2019
Well, the big day was finally here. After much soul-searching, and rationalizing the trip, Chris and I finally packed up the car… bikes, gear, luggage, and road trip snacks!!! With all of the things that were going on with my Mom in the hospital after her latest stroke, it had been hard to focus. Hard to keep on task… and hard to rationalize going on "vacation" while she was laying in a hospital bed. But I taught my Tuesday night pottery class, got home late and finished packing, and over-packing, and got a couple hours of sleep. But as of this morning … we're on VACATION!!!
After packing Chris's car with all of our stuff…
we set the GPS course for Lake Placid and headed off!!!
Lucky for us, we have some of the greatest friends ever!!!
Including our friend Nancy who knew we would need some road trip snacks… and had stopped by earlier in the morning at Chris's house to drop off this huge coffee cake "pizza" with lots of fruit & icing! Nancy knows it's one of my favorites from my favorite bakery in Elk Grove Village… Jarosch Bakery! She knew this because two years ago when Nancy & I went up to Madison to cheer on Chris in her first full IRONMAN, we stopped and got one of these for our road trip together… and polished it off with ease!!!
Needless to say, we hadn't even made it to the Skyway Tollway Bridge before we cut into it… basically still in Chicago!!!
So there we are blindly following the GPS… talking… chatting… singing.. and eating.
Basically all of the fun of a road trip as we finally crossed into Indiana across the Skyway Toll Bridge!
And then soon enough… hello Michigan!!!
Soon enough there were "signs" along the road that we must be nearing Detroit.
Kind of exciting… as I have never been to Detroit. Still just following the GPS in the car.
Still having a fun time chatting & sightseeing along the way!
And then we started seeing highway signs that caused a bit of concern…
we didn't want to go to either Lansing or Canada??? Uh oh… Which way to go?!
We knew we wanted to keep going EAST towards Lake Placid. So we continued on…
But then all of a sudden…
All of a sudden we came upon this really cool looking bridge. The Ambassador Bridge. I was so busy admiring the bridge & taking pictures… I wasn't really paying too much attention to where we were headed. I guess in hindsight I should have known better?…
The bridge was cool. The bridge was long… with no options to exit. Before we knew it, we were stopped at this weird Toll Booth looking area that was moving very slowly. It was only then that the reality of the situation began to sink in. Why was it taking so long? Why weren't the cars moving through faster with their iPass? Something must be going on?!!!
It was only when we finally made it to the Toll Booth window that it hit us.
As the guard in the booth asked us for our PASSPORTS… "Passports please!"
Of course we didn't have them. Who knew you would go through Canada to get to Lake Placid? The GPS route never said anything about needing a passport? So we sheepishly offered up our Driver's Licenses… and again "Passports please!" The Customs Agent was surprisingly nice as we bumbled our way through the "interrogation"… Where are you going? Why are you coming to Canada? How long are you staying? Where were you born? All we had was Lake Placid… IRONMAN… triathlon… here are our bikes… here's our gear… just following GPS… we had no idea… we're idiots from Chicago!
We asked her if we had any other option… to maybe turn around and stay in the USA. She said we could, but then we would need to backtrack all the way and go back around UNDER the lake… thus adding about 3-1/2 to 4 hours onto our trip. We said NOPE… we'll try our chances in Canada! So after she scanned our Driver's Licenses and chatted it up with us… she finally let us through.
And then, and only then… as we were now driving through the Canadian countryside, Chris decides to tell me she printed out a traditional map from Mapquest. Showing the route we "thought" we would be taking. Apparently Chris didn't realize that there might be different GPS routes… she assumed the printed out online map would be the same as the GPS directions in the car. Apparently she was wrong… and apparently it was too late to use this printed map!!! Oh well, scenic route here we come!!! Hello Canada!!!
Luckily… we were now headed towards Niagara Falls for the evening! It had been a long time since I had been there… and we both knew that it is much prettier from the Canadian side. And since we were in Canada already… all good, right?!!!
We found a hotel room just a few blocks from the falls. We settled in quickly and then walked to find dinner. After dinner, we walked down to see the waterfalls. Another wonderful surprise was that the falls were all lit-up in wonderful colors!!!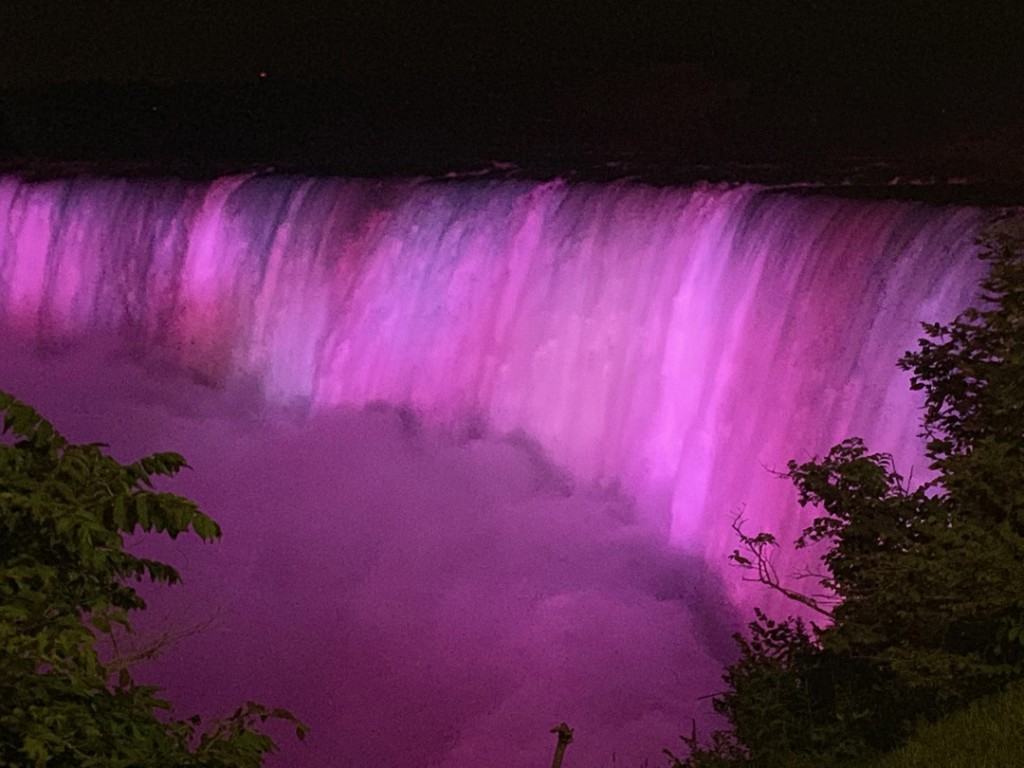 And if that weren't enough, they also decided to show off and welcome us with an amazing fireworks display over the falls. AMAZING!!! And such wonderful timing for us… and our surprise "adventure" into Canada!!!
After the fireworks, it went back to just the beautiful light-painted waterfalls.
And then it was back to the hotel for a well-deserved night's sleep. Chris had done most of the driving, while I did most of the photo-taking… and eating. It was only Day One.. and we've already had a wonderful adventure. So much more fun to come!!! And THIS is how Chris and I travel… one adventure after another!!!
Save
Save