08.19.2014
Yesterday we all "played hookie" and spent the day at Six Flags Great America. A wonderful day of roller coasters, ear-piercing screams and theme park food. This was our third "annual" excursion with my niece Taylor. Each year she gets a free ticket for reading a certain number of books in school. And with the new school year right around the corner, we needed to squeeze this in quickly. So Monday was the day!!!
Taylor is now tall enough to go on EVERYTHING!!! Once she was measured and given the coveted red wristband, she was ready to tackle everything… first up, the "Superman" roller coaster. They hook you into you seat and then rotate it forward so you're "flying" face down just like Superman. So yes, the track is above you so you can't really see it while you're riding it. And yes, Taylor was quite the trooper… a few hysterical ear-piercing screams along the way… but all smiles at the end.
Then we calmed it down a bit with a spinning, rotating "lobster" ride. The perfect time for a quick photo shoot of Taylor and her mom Jen… my sister. But once the ride got started, my cousin Kim wasn't quite so calm any more?!!!
Sure, who am I to pass up a foolish photo-op?!!!
Next up it was the "Batman" roller coaster. Taylor started out a bit more determined… kind of enjoying the fact that this is a regular sitting roller coaster. Okay, sure there's no floor and your feet kinda dangle over nothing, but still better than flying face down!!!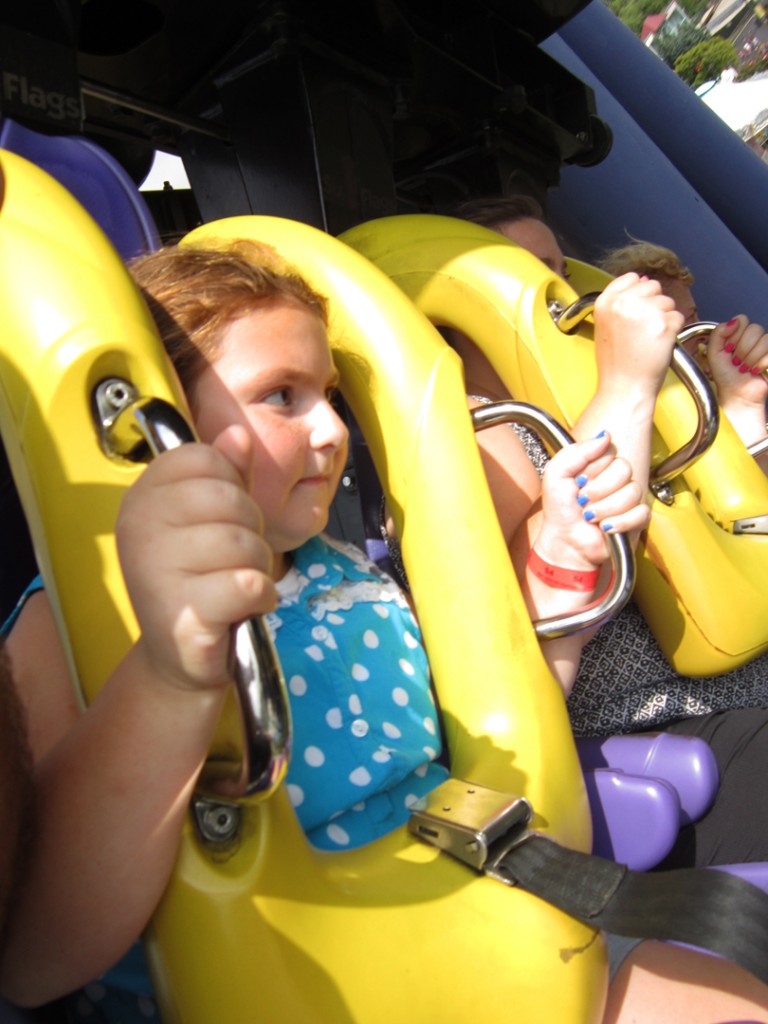 Whew… made it… bottom lip still quivering just a little…
Next a quiet ride along a lazy river in the "Logger's Run" boat ride. We got a little wet when we made the big splash – and it felt great as the day was warming up as the sun kept popping out more & more.
And then "Goliath." The newest roller coaster at Six Flags Great America. Hyped as the tallest, steepest & faster wooden roller coaster. I'd say it was good, but not great. Always fun the first time, but I doubt it will hold up to the test of time. And I must admit… I expected taller. I expected steeper. I expected faster. What I DIDN'T expect was so many upside-down flips!!! Don't get me wrong, I LOVE flipping upside-down. I just didn't expect it.
Then we tackled a few more rides like "The Revolution" and "American Eagle." Taylor conquered The Eagle two years ago, so this time it was no big deal. A little more rickety than any of us remember, but still a lot of fun. Followed by lunch and a little relaxed time eating in the Pavilion.
Next up was "The Viper" – another older wooden roller coaster wit a lot of pop-out-of-your-seat-hills. Which I love. And quickly enough, "The Viper" became Taylor's favorite roller coaster of the day!!!
Mom & Taylor both enjoyed their trip on "The Viper"… a little exhausted, but fun.
A little post-ride selfie with my cousin Kim.
Looming on the horizon was my FAVORITE – "The Raging Bull."
Locked in and ready to go… clickety-clacking up that first big hill approaching the big drop. It was at this point that we saw Taylor having a little melt-down. A little anxiety kicking in as she was trapped, go upwards and not too pleased with it… as a single tear ran down her cheek. We were all concerned that maybe we had taken her one step too far??? But she knew it was "may favorite" and I think she knew that she just "had to" go on it!!!
Soon enough the ear-piercing screeches began again… shrieking over every hill & twist…
Relieved that she made it to the end…
Whew…
Thumbs up if you liked the ride!!!
And yet "The Viper" was still Taylor's favorite… so why not do it again?…
This time she was ready. She knew what to expect. She was ready…
And then the screaming kicked in once again…
But still lovin' "The Viper."
Our last ride was "The Condor" as our day was all too quickly drawing to a close. We all assumed the park was open until 10:00pm. We were all surprised to find out it closed at 7:00pm. So a fond farewell from Kim…
And some "glamour shots" of the park as the sun was hitting everything just right.
And there it is, another year under out belts. Another great trip to Six Flags Great America. And Taylor was a trooper… as was her Mom. The deal was that Jen would go on any roller coaster that Taylor went on. And I think this was probably the most roller coasters that Jen has EVER done in one day!!! It was a great day for everyone.
So Taylor… keep reading so we can go again next summer!!!