10.15.2018
FLASHBACK : A YEAR AFTER
IRONMAN LOUISVILLE  2017
________________________
So it's RACE DAY!!!
Starts off VERY early in the morning. Nervously waking up, running through the shower, shaving, eating some food, double-checking everything… just to get in line and sit for hours waiting for your chance to jump in the water.
So the way they did it in Louisville last year was that each athlete had to "choose" which group they belonged in based on their estimated swim finish time. Now I know I'm NOT a good swimmer… and I would be LUCKY to finish in under two hours… but I thought that if I started in  a slightly faster group it might spur me along a bit.
Keep in mind, there's a HARD CUT-OFF DEADLINE of two hours & twenty minutes for the swim. Don't make it out of the water in two hours, twenty minutes and your race day is OVER!!! My biggest fear!
And then after waiting in the darkness for over an hour, the line finally started to move as the sun was just coming up. Nervousness sinks in as you get closer to the pier where the jump-in happens!
Excited and nervous all at the same time!!!
So everyone jumps in the Ohio River off the pier. Your time starts when you actually jump off.
You swim upstream between the shoreline and a small island. This is a Google photo… but trust me, this is what it looks like as you're swimming in the morning sunrise with steam coming up from the the warm water!
Once you get past the island, you swim a bit further and turn around the floating pylon way out in the water. You turn around and start swimming back the other way. You need to cross under two of the huge expressway bridges before you can think about getting out!
And yes… there are a LOT of people splashing around in the water. Bumping you. Scratching you. Swimming over you. Takes awhile to get used to that part. Most of them are actually swimming. I'm more in the side-stroke category!!! I'm not a good swimmer… so I call mine more like "flailing & floundering in a forward direction."
Eventually you get to the end of the swim. With a HUGE sigh of relief.
You see Joe's Crab Shack and the exit arch for SWIM OUT.
And you just hope that you made it in under the cut-off time!
And I did!!!
I made it in under two hours!!! So excited… I get to keep moving on in my race day!
So excited to see Chris there at the Swim Exit cheering me on!… and taking photos!
And then it's back to the Transition Area to find you Bike Gear Bag so I can change clothes and put on my biking shoes & helmet. You drop off your bag that now has your Swim Gear in it… and you're heading off for a "leisurely" 112 mile bike ride!
And here we go… after a quick high-five and words of encouragement from Chris on the sidelines!
And let's just say, it's not really all that FLAT in Louisville… there are a few hills along the way too!
So you're out there biking through rural Louisville.
Lots of rolling hills and bluegrass horse farms. Beautiful weather…
and then… uh oh… STORM CLOUDS!!!
Seemingly out of nowhere… huge clouds, gusts of wind and sharp sprinkles of rain.
The combination of wind & rain made the drops feel spiky on your skin! It was pretty much the last half of the ride through the stormfront!!! It was so bad that many people were posting videos on Facebook!!!
While others were posting weather facts & updates!!! And YES, it was tough pedaling through the gusty winds! You just had to keep your head down, tuck it in on the aero bars and keep pedaling!!!
When I finally got back to the Transition Area on my bike, I was more than ready to get off. It was cold with gusty winds. My fingers & ears were frozen. The sweaty clothing made your chilled very quickly when you stopped pedaling. Couldn't wait to get out of my wet biking clothes and into some dry running clothes. Not quite sure what to wear for the run portion. You only have the clothing options that you packed in your Run Gear Bag. Which luckily I had plenty of options. But the "problem" is that you don't want to wear too much and overheat along the way. You also don't want to wear too little and get chilled… again!
So I finally made my choices, went for shorts & bike jersey with snacks & gloves in my back pockets! Ready to head off for a full marathon of fun!!! So god to see Chris waiting for me at the end of the Transition chute… huge encouragement and support!!! Much needed after the chilly bike ride… hoping that the storm front had moved out of the area for the run!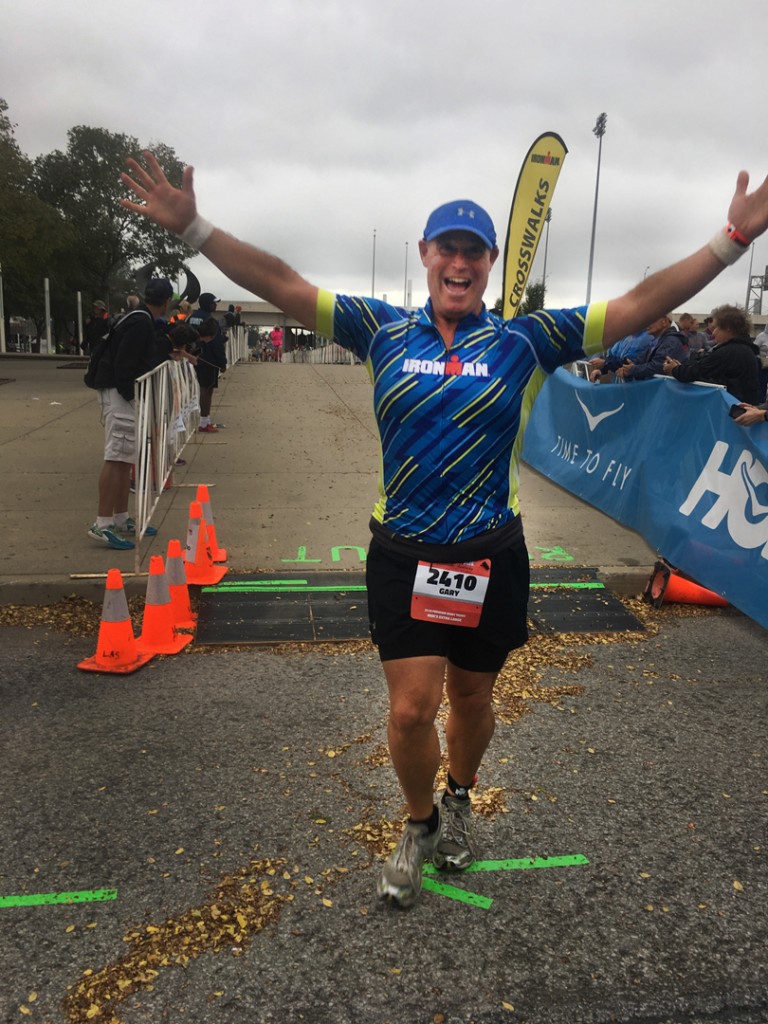 Halfway through the run, you finish your first lap and they bring you so close to the Finish Line you can see the lights, hear the applause, feel the music… and then they make your turn right a block before… turning you around for another 13.1 miles!!! PSYCH!! Like it's not hard enough after 13 miles, the sun has gone down, it's now dark & cold… and the TEASE YOU with the Finish Line!!!
Luckily, Chris was right there waiting for me at the Special Needs station…
right after that vicious right hand turn away from the Finish Line!
Bad camera, blurry photo… trust me, it's NOT that I'm running so fast that I'm a big blur!!!
And then I got to stop for my Special Needs Bag… at the half-way point of the marathon. Pre-planned with some more food, chance to change clothes, Chapstick, etc. Luckily Chris was there to snap a couple pictures and to see me snarfing down some food… like a pouch of tuna fish with my fingers!
The remains of my Special Needs bag…
A quick breather… and then it was time for the next 13.1 miles.
The toughest part of the race! You're SO close… and yet SO far away. It's dark and cold,
and you've still got another couple HOURS of running ahead of you!
So you know what it looks like… and some of you don't?! Here's what Fourth Street Live looks like on race day at the Finish Line. Lights glaring. Musing blasting. Crowds cheering. Bellowing for each and every athlete to cross that elusive Finish Line. SO  EXCITING!!!
A system of volunteers ready to help the athletes navigate the Finish Line…
photos, water, metallic blankets, photos… and of course, Finisher medals!!!
But then again… back to ME!!!
I finally made it… as the Announcer blares out on the microphone…
"GARY JACKSON… YOU ARE AN IRONMAN."
The phrase that every athlete has been looking forward to all day long!
And there it is… and the sense of accomplishment. 140.6miles of fun!!!
And my SECOND FULL IRONMAN!!!… and still smiling!!!
So here are my official IRONMAN Louisville results…
almost an hour and half better than last year!!!
And for those who care for a bit more detail… more than I need to know…
All in all… another wonderful day in Louisville.
LONG… but wonderful.
Save
Save
Save
Save
Save